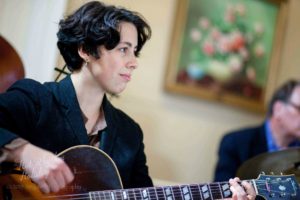 A native of Monroe, Louisiana, Albanie was in her formative years exposed to the local music of Louisiana: the sounds of cajun, zydeco, blues and gospel musics at festivals and backyard parties.
Shortly after relocating with her family to San Marcos, Texas at the age of nine, Albanie began taking guitar lessons and developing an interest in acoustic-roots and electric blues, punk rock, and hair metal. Albanie began her love and study of early American Jazz as a freshman in highschool in Wimberley, Texas, when she was exposed to the Parisian Romani guitarist Django Reinhardt.
Listening fervently to recordings of Reinhardt, Louis Armstrong, Billie Holiday, Fats Waller, and other such great figures of jazz, she began to develop her feel for swing. Soon she was performing alongside mentors and other players of the Austin scene where she lived and performed in the years after high school.
In the summer of 2013 Albanie relocated to New Orleans, Louisiana, where she is currently living and performing with various traditional jazz and swing ensembles. Since the summer of 2015, Albanie has also been doing solo performances featuring her original songs.